2018 CI2SL Notification Letter
2018-06-06 来源:
To Whom It May Concern: May 8, 2018
Subject: 2018 China Chapter Conference of International Institute for Sustainable Laboratories
China Chapter of International Institute for Sustainable Laboratories as a branch of International Institute for Sustainable Laboratories will hold I2SL conference at the China National Convention Center (CNCC) on July 30-31, 2018.
The conference topic is based on "sustainable laboratories", divided into eight sub-topics, each held in four separate conference venues. The main topics are inclusive of laboratory certification and management, international outstanding building case study, current trend in lab design and building, science and technology center construction and management, hospital lab design, current challenges in green lab and smart laboratory construction.
Exhibition will also be held corresponding to the conference, dated July 31, 2018. This will be a communication platform for lab users, manufacturers and vendors. After the conference, representatives of the conference will be organized to visit advanced laboratories such as National Human Genetic Resources Sharing Service Platform, Sinopec Research Institute of Petroleum Processing and Institute of Materia Medica at Chinese Academy of Medical Sciences and Peking Union Medical College.
1. Conference date and venue
Conference date: July 30 full day — July 31 morning session
July 31 afternoon session technical discussion
Conference venue: China National Convention Center (Address: No. 7, Tian Chen Road East, ChaoYang District, Beijing)
Registration location & recommended lodging: China National Convention Center Hotel (Beijing chaoyang district beichen west road no. 8 on 1 floor, 400 698 2008, http://meeting.cnccgrandhotel.com/m133/hotel_s_reg.aspx)
2. Other items
Please fill in the form and send email to china@i2sl.org for conference group before July 10, 2018. The form is as below:
Please list any dietary restrictions (allergies, vegetarian, etc.) below.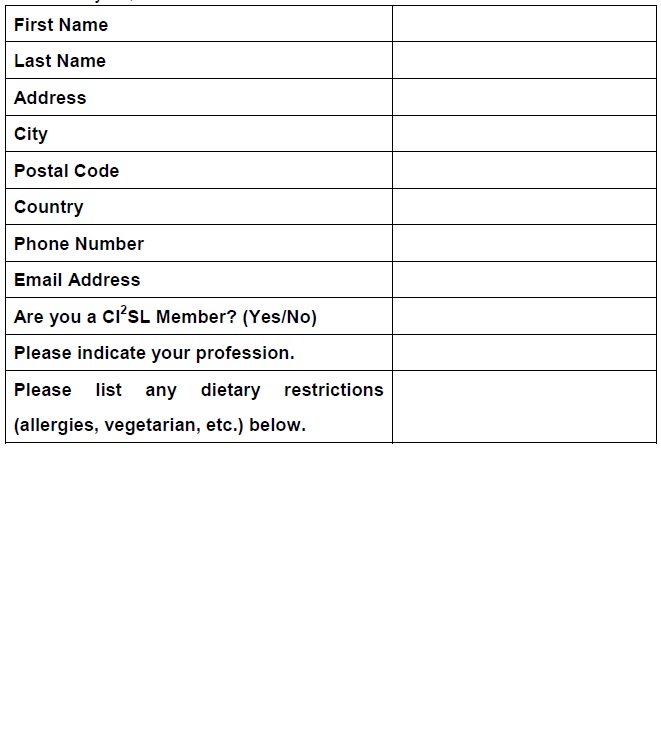 Registration fee is 4800RMB per person for non-members, 3800RMB per person for CI2SL members. Get discount price of 4000RMB for non-members and 3000RMB for CI2SL members before June 15. (Fee is inclusive of lunch on 30th and 31th. Fees are not inclusive of transportation and lodging.)
Booth pricing is at 1000RMB /㎡, minimum of 3m X 3m. Exhibition staff entrance fee shall not be charged. (Booth plans shall be sent separately.)
Please transfer the above payment by July 10 to the following account:
BENEFICIARY NAME:
CHINA ENTRY-EXIT INSPECTION AND QUARANTINE ASSOCIATION
BNF' ACCOUNT NO. : 110 010 858 000 56014693
ACCOUNTING BANK INFO:
CHINA CONSTRUCTION BANK BEIJING BR. ZHONGZHOULU SUBBR
ADD:Tower 18No.2 Anhua West Block, Chaoyang District, Beijing, China
SWIFT CODE: PCBCCNBJBJX
中转行信息:美洲银行,纽约
SWIFT CODE: BOFAUS3N
FEDWIRE:FW 026009593
INTERMEDIARY BANK INFO: BANK OF AMERICA, NEW YORK
SWIFT CODE: BOFAUS3N
FEDWIRE: FW 026009593
Please register as early as possible as booths and conference registration are limited.
3. Contacts
Yiyi,Tong:+86-10-52913779-818,+86-15001028421 ;
Yidi,Zhang:+86-10-52913779-828,+86-18612381045;
email:china@i2sl.org
京ICP备05035142号
地址:北京市朝阳区华严北里甲1号健翔山庄B11座
电子邮件:santong@ciq.org.cn联系电话: 010-62058727